HAHN+KOLB's history looks back on 125 years of success
HAHN+KOLB's successful and diverse history started when it was founded in 1898 by Hermann Hahn and Adolf Kolb. The company quickly established itself as a specialist in tools and machines, recognised throughout the industry for its high service, delivery and product quality standards.
HAHN+KOLB is DIN EN ISO 9001 certified, and was the first company in its sector to comply with the stringent VDA 6.2 auditing requirements.
HAHN+KOLB can now look back on 125 years of company history. Read more on our anniversary page.

First branch: Tübinger Strasse in Stuttgart
1898
Hermann Hahn and Adolf Kolb found HAHN+KOLB on 1st July as a shop specialising in tools and machines.
1904
The first (hand-written!) HAHN+KOLB tool catalogue is published, numbering around 450 pages.
1909
The first exhibition space with display windows is rented in Tübinger Strasse for the purpose of demonstrating machinery.
1913
HAHN+KOLB acquires a workshop for turning machines, which in due course will develop into the independent and world-renowned company INDEX-Werke HAHN+TESSKY KG.
1923
A charitable foundation is set up for employees to mark the company's 25th anniversary.
1924
The company establishes its first branch in Munich, marking the start of the company's expansion into the rest of Germany.
Move to Königstrasse in Stuttgart
1927
HAHN+KOLB moves into the new HAHN+KOLB house in Stuttgart's Königstrasse, the first high-rise building in Stuttgart.
1929
The first "HAHN+KOLB-designed" machines are built using lapping and fine grinding machines. Indexing table machines, tool grinding machines and multi-edge turning machines are also in use before much longer
1939
HAHN+KOLB founds its first independent foreign branches in Milan and Vienna.
1944
War damage to the company's head office and the warehouse in Feuerbach force the relocation of its operating sites to neighbouring rural areas.
1950
Reconstruction starts. HAHN+KOLB alone takes up an exhibition hall covering 1,850 square metres at the Hanover Trade Fair.
1962
The first major demonstration week is held at the Schorndorf plant premises over an area of 1,600 square meters.
1973
The tools division moves into the newly built Tool Centre in Stuttgart-Feuerbach.
1986
The new HAHN+KOLB Technology Centre in Schorndorf is used for demonstration and training purposes, attracting over 4,500 visitors in its first year.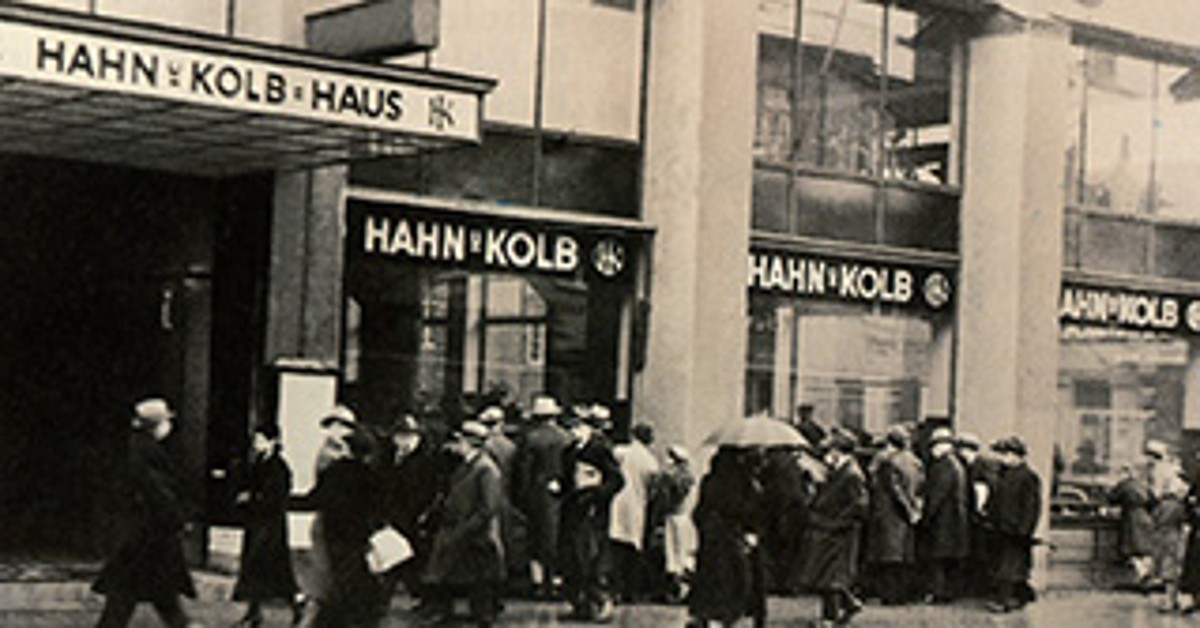 Relocation of the company headquarters to Borsigstraße in Stuttgart-Feuerbach
1993
HAHN+KOLB GmbH+Co. KG transfers its activities in the field of tool sales to the newly founded Hahn + Kolb Werkzeuge GmbH.
1995
Adolf Würth GmbH+Co. KG acquires HAHN+KOLB Werkzeuge.
1995
HAHN+KOLB is the first company in Germany to offer a "Purchasing Card" as a financing option. By doing so, it streamlines material procurement by ensuring that all the necessary purchasing steps are carried out by HAHN+KOLB, with detailed information about related purchase items supplied at the same time.
1996
The first HAHN+KOLB Tool Catalogue is published on CD-ROM, with an Order Manager.
1997
HAHN+KOLB publishes the first German tool catalogue on the Internet, with a range of 60,000 articles.
1998
The company moves into international markets, with subsidiaries and catalogue partnerships.
2000
The online shop HK-NET is launched.
2011
HAHN+KOLB cements its pioneering credentials by publishing the industry's first catalogue with QR codes and data matrix codes.
2012
A groundbreaking ceremony is held for the new company headquarters in Ludwigsburg.
New company headquarters: Schlieffenstraße in Ludwigsburg (2013 - present)
2013
HAHN+KOLB moves to Ludwigsburg. This architectural masterpiece reflects the company's dynamism and modernity, and the site houses three structures across 48,000 square metres; the Sales Centre, the Technology Centre and the Logistics building.

2018
> HAHN+KOLB is celebrating its 120-year anniversary.
> New catalog division into three books: "Metal Cutting and Tool Clamping," "General Tools," "Workbench Equipment and Machines"
2022
The ATORN quality brand celebrates its 20th anniversary.
2023
HAHN+KOLB is celebrating its 125-year anniversary.