Electronic catalogues - Fast and convenient shopping with individual data
Do you want to optimise the procurement processes in your company and integrate our product data into your e-procurement system permanently?
For this purpose, we can provide you with catalogue data coordinated to your system and requirements in the form of an electronic catalogue (e-catalogue) in a range of different languages, with up-to-data product information, individual customer prices, delivery times, images and product and safety data sheets.
Electronic catalogue
An electronic catalogue is a file that exists in a defined format. This includes the entire assortment offered by the retailer or a specific selection of the product portfolio individually tailored to you.
Once your personal e-catalogue has been created and integrated into your e-procurement platform, it acts as the basis for electronic data exchange, guaranteeing the error-free transmission of article data (without media breaks) – round the clock. This electronic solution allows you to optimise your purchases and reduce procurement costs.
We can provide electronic catalogues in all common formats (e.g. BMEcat, CIF, CSV, XLSX and txt). Classification by eCl@ss or UNSPSC also facilitates your internal account assignment and approval processes.
Contact us.
Together, we will define your desired assortment, the suitable content and the right format for your e-catalogue. Our catalogue managers will then put together your electronic product catalogue and our IT specialists will coordinate the connection to your resource planning system with you.
Platforms and marketplaces
HAHN+KOLB works with all major platforms and marketplaces and supports all common formats and interfaces.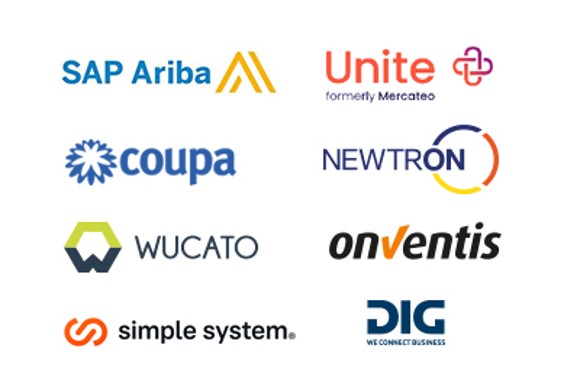 Do you already use one of these platforms? Our long-term experience with these providers, helps us to supply product data in the most appropriate format.
Do you use another software? Just contact us to see what we can do for you.
We will be happy to answer your questions about electronic catalogs.
Contact us for more information.
Telephone: 07141 498-5050
Monday to Thursday from 07:30 to 17:00
Friday from 07:30 to 15:30
Email:

online@hahn-kolb.de